Nascido em uma casa humilde, Forrest teve uma infância criminosa.
Obrigado por seu pai a fazer furtos em cidades e castelos nunca sendo pego, depois de muito tempo dando lucro todo a seu pai ele foge de casa e retira o seu nome de familia 'Steel '.
Tendo uma fama incomun porem muito grande de todo Sul a Norte e Leste a Oeste conhecido sempre como Forrest Ligeiro.
Viajando pela Floresta Negra ele se depara com um Acampamento das Forças do Norte , em uma tentativa de furto na tenda do Estrategista Militar do Norte Magnus Sabren ele foi 
capturado, esperando seu fim, sendo a punição por roubo no Norte a morte. 
Algumas horas depois o acampamento das Forças do Norte foi atacado pelos 
Bandidos da Floresta Negra, uma grande batalha no escuro foi travada em meio a batalha Forrest consegue escapar de sua cela, tendo a chance de Fugir porem ele volta e mata o líder dos Bandidos salvando a vida de Erdelan Clauster o Príncipe do Norte.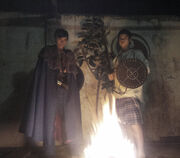 O Principe retira sua Punição e lhe concede a parte da Floresta Negra que estava em seu Reino, Com a condição de sempre que puder oferecer ajuda e proteção a qualquer cidadão do Reino do Norte , Forrest ja sendo um idolo aos bandidos da Floresta Negra que já conheciam sua reputação a muito tempo eles o Nomeiam seu Lider, sendo criado naquela mesma noite os Blackwood Bandit's , E onde ele cria seu novo Sobrenome 'Blackwood'.
Ad blocker interference detected!
Wikia is a free-to-use site that makes money from advertising. We have a modified experience for viewers using ad blockers

Wikia is not accessible if you've made further modifications. Remove the custom ad blocker rule(s) and the page will load as expected.